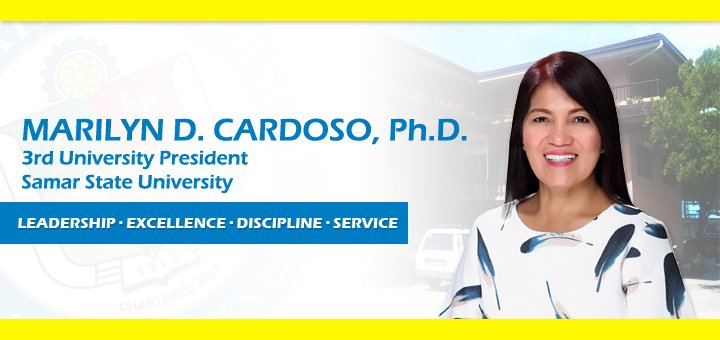 President's Message – Teachers' Day 2016
Written by Pet Labro
Her Story…
"My forefathers were from Iloilo who migrated shortly after the war in search of treasures in the promise land. I grew up among orchards if fruit trees and beds of flowers – of rambutans, marang, and mangosteen, of waling waling, dahlias, and anthuriums, over highland springs of flaccid Lake Agco, and the ever increasing vast of peoples in their native Hiligaynons, Sugbuanons, Tagalogs, and lilting hymns of multi-ethnic Lumad lullaby. At an early age, I learned how to listen, and listen intensely, the hush of highland wind as it swept slowly across pine trees to hide beneath the secrets of the mists. I learned how to keep silent the wailing cries of hungry cicadas in arid fields of arrogance. I learned how to close my eyes when galling darkness surrounds the bleakness of cloudy moonless evenings."
So goes the story of Dr. Marilyn Dejecasion Cardoso, the first lady president of Samar State University and the first lady administrator of the institution in one hundred and four years since 1912. She traces her ancestors from Ma-asin, Iloilo who migrated to Kidapawan City in North Cotabato. After finishing high school at the University of Southern Mindanao at Kidapawan Campus where she was a salutatorian, she matriculated as XDS scholar at the University of the Philippines in Diliman, graduating with the degree of Bachelor of Science in Statistics in 182.
Shortly after her graduation, she was hired as school teacher and statistician at the North Cotabato College of Arts and Trades in Kidapawan City teaching statistics and physics to technician and industrial technology students. Three years later, in 1985, she was awarded a BE-TVE scholarship for which she obtained her Master in Technican Education (MTE) degree a year after.
Destiny must have made her follow unchartered course to dare the brave Waray-waray ground when she married Alex Ablay Cardoso in 1987 and came to Catbalogan City as College statistician at then Samar State Polytechnic College (now SSU) following her husband who was then a school teacher, they were a couple matched in heaven for they have reared and nurtured together four loving and talented children.
Excellence fired by honor has always been Dr. Cardoso's motto ever since. She excelled in almost everything she aspired for or was tasked to do – at home or with her career.
She did numerous short-term courses on Innovative Approaches and Strategies at SEANEO-RECSAM in Penang Malaysia, flagship courses on Academic Excellence at the Graduate School of Public and Development and Management at the Development Academy of the Philippines, Statistics for Development Planning at NEDA; served as accreditor for AACCUP as survey consultant, cluster coordinator, team leader and team member of accreditation survey teams. She published several books and research journals on Basic Statistics, MTB-MLE Waray-Waray, Child Labor Nutritional Status and Academic Performance of Filipino Children, Parental Involvement and Academic Performance among Grade School Pupils, including publication articles for a number of local journals.
She remained an active participant for the administration and the rank-and-file personnel. She served as Faculty Regent of the University for two terms, member of the Board of Trustees of the Personnel Federation, Vice President for Academic Affairs, Dean of College of Graduate Studies, Dean of College of Education, Head of Research and Development Center, Director of the Income Generating Projects Board of Management, and member of the NEDA Regional Social Development Council.
Dr. Cardoso's appointment as President of Samar State University reflects the University's commitment to pursue excellence and to forge progress for the country.
President's Report to the Board of Regents