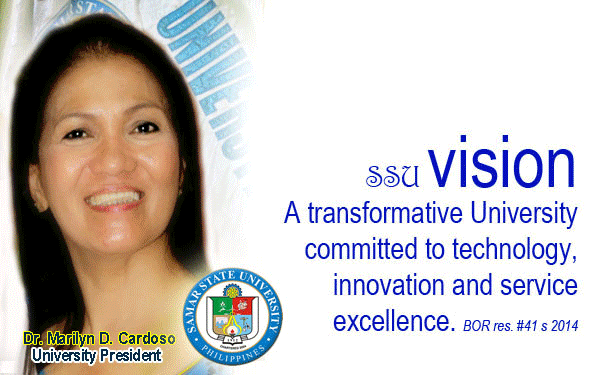 Written by Ronald Orale
This is the second time in a row that Samar State University received an award from the Intellectual Office of the Philippines (IPOPhil) for patent filing performance. Out of 84 institutions with franchise of IPOPhil's Innovation and Technology Support Office (ITSO) in the Philippines, SSU was considered 2nd for having the most patent applications.
---
Written by Alona Medalia
"Until now, my mind can't accept it [the result] because for me, it's an additional burden… but it's a challenge," said Engr. Malindog on being the new president during the election of new set of Samar State Universtiy- Personnel Association officers for C.Y. 2016-2018 last June 24, Friday, at the SSU Maceda Gymnasium.
---
Written by Arianne Rose Tafalla
Spearheaded by the office of the vice-president for Academic Affairs (VPAA), Samar State University (SSU) faculty and staff attended the In-house Seminar-Workshop on Academic and Administrative Processes towards Increasing Productivity and Excellence on May 25-27, 2016 at the SSU Audio-Visual Center.
---
Written by Marico Betonio
Catbalogan City – Led by the Guidance Office, SSU held its first ever Re-Orientation Forums for continuing students last June.
---
Written by Arianne Rose Tafalla
Faces of excitement were seen all over the vicinity of Ciriaco Hotel on June 10-11, 2016 as 22 maintenance and utility personnel of Samar State University attended the Training on Team Development and Accountability.
The said activity was organized by the Human Resource Office headed by Mrs. Evelyn Abaigar and facilitated by the Guidance Center Office headed by Prof. Mae Cañal. Topics discussed on the said training include Characteristics of Effective Teams, Employees Legal Accountability, Building and Maintaining Teams Group Work, Collaborative Communication, Managing Conflict, Monitoring Team Development Group Work, and Workshop Closure Group Work. Director Rey Albert B. Uy (Civil Service Commission, Samar Office) and  Prof. Mae Cañal, Prof. Abigail M. Cabaguing, Prof, Ma. Cristina Abalos, and Prof. Arianne Rose Tafalla (SSU Instructors) served as speakers and faciltitators of the activity.
---
Written by Marico Betonio
Taking full implementation of the K-12 Transition Program (CMO No. 3, Series 2016), the Commission on Higher Education (CHED) had released the list of approved scholarship nominees for the first batch, approving 30 nominees from Samar State University (SSU).
---
Written by Marico Betonio
Boracay – Samar State University's Mirador G. Labrador and Jon Alvin L. Macariola respectively clinched the Best Paper and the 2nd Best Paper awards in Science and Technology during the 1st Global Research and Education Conference (GRAEC 2016) last June 17-19, held at the Crown Regency Resort and Convention Center, Boracay, Aklan.
---
Written by Marico Betonio
Iligan City – College of Arts and Sciences (CAS) professor, Nathalie Ann C. Alaga, took home the bacon when she was awarded "Best Paper Abstract" and "Best in Oral Presentation" for her research study, "Media Exposure for an Enhanced Communicative ESL Instruction," during the 1st International Multidisciplinary Research Conference held in Iligan City, Lanao del Norte last April 26-28.
---