Comm. Sangalang challenges SSU, other SUCs on R&E activities in Agriculture and Fisheries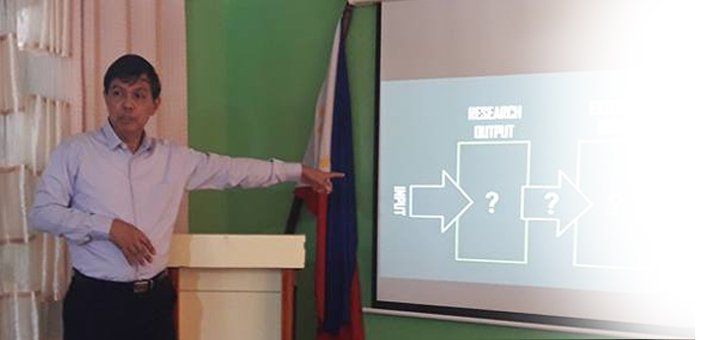 Dr. Ruperto S. Sangalang, a Commission on Higher Education (CHED) commissioner challenged Samar State University (SSU) and Eastern Visayas State University (EVSU) to step-up its extension activities to increase impact to the communities they serve.
This was his call during a briefing held at EVSU on October 24, 2016 attended by more than 40 researchers and extension workers from SSU and EVSU. Same challenge was thrown to all National Universities and Colleges of Agriculture and Fisheries (NUCAFs) and Provincial Institute of Agriculture and Fisheries (PIAFs) engaged in Agriculture and Fisheries (A&F) programs. His report indicated  much spent on these programs but very few have been successful.
Dr. Sangalang reported March 2016 research outputs from 56 out of 115 State Universities and Colleges (SUCs) which are NUCAFs (31) and PIAFs (84) produced a total of 3037 published researches, 139 mature technologies, 237 patents, but only 51 have been commercialized.
On the other hand, extension outputs of these SUCs were 284 viable demonstration projects with 42,936 adaptors and 22,024 profitable businesses in the last three years. He, however, clarified that these were not yet verified information. The data according to him showed the link between research and extension appearing weak.
NAFES institutions have limited techno-demo projects and viability has not yet been established. The information shared suggested almost a billion funds spent for such activities did not improve the social conditions of the project beneficiaries, the poorest sectors of the society, the farmers and fishers.
Because of these findings, CHED revised requirements for R&E projects specifically for demonstration projects focusing on two major criteria, socio-economic and investment criteria receiving equal weight.
For a proposal to be funded, it must receive a score of at least 70% in each major criteria and at least 80% overall rating.