Balindo 2nd Best Paper in Marine and Freshwater Sciences National Convention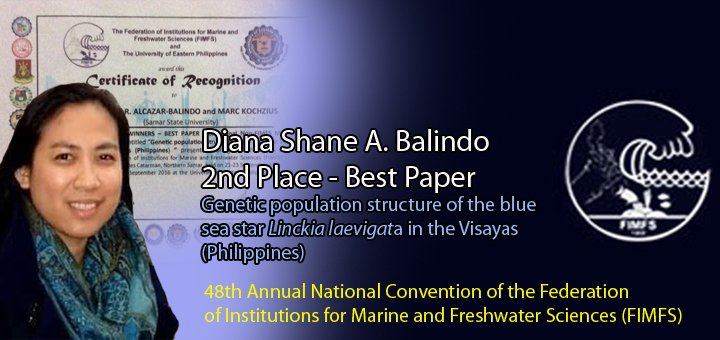 Diana Shane A. Balindo study on blue star's genetic population structure won as 2nd Place – Best Paper during the 48th Annual National Convention of the Federation of Institutions for Marine and Freshwater Sciences (FIMFS). Ms. Balndo is a College of Education faculty competed with other researchers who came from institutions not member of FIMFS.
FIMFS was founded in 1968 is a national organization of institutions offering Marine and Freshwater Sciences and active in research to serve as venue for mentoring young and budding scientists as well as in sharing of research outputs. The 2016 convention was held at the University of Eastern Philippines in Catarman in Northern Samar was attended by researchers from 23 member institutions and other non-member institutions most of which are higher education institutions.
The study investigated the genetic diversity, genetic population structure and gene flow in L. laevigata to reveal connectivity among populations in the Visayas. The analysis is based on partial sequences (626 bp in length) of the mitochondrial cytochrome oxidase I gene (COI) from 124 individuals collected from five localities in the Visayas. The full paper can be accessed in the Journal of the marine biological association of the United Kingdom.