CFARRD Call for R&E Proposal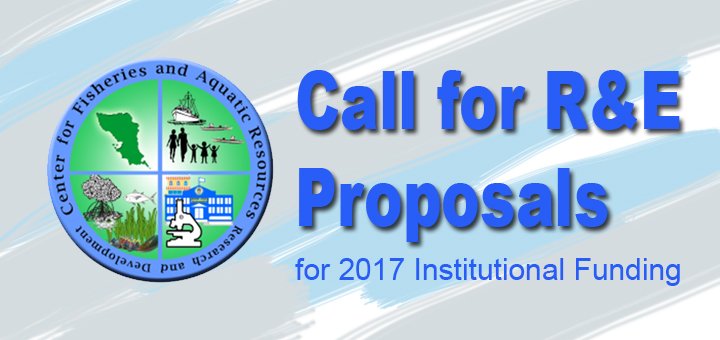 The Center for Fisheries and Aquatic Resources Research and Development (CFARRD) is calling all interested parties from different colleges of the university to submit proposals for possible 2017 institutional funding. The proposals shall be evaluated in the upcoming CFARRD In-House-Review on September 28, 2016. Please observe submission protocol. Please be aware that only members of the center are allowed to submit proposals. Secure application from the center director.
Proposals must be aligned to the following center programs.
Fisheries Technology Research & Development Program

Appropriate fishing technologies
Sustainable aquaculture technology
Fish processing and post-harvest technology

Shellfish Research & Development Program

Mussel (tahong)
Oyster (talaba)
Small rock oyster (sisi)
Mangrove clam (imbao)
Freshwater clam (bebe)
Venus clam (mayahini)

Crustaceans Research & Development Program

Blue swimming crab (karawasan)
Crusifix crab (kudusan)
Mangrove crab (alimango)
Freshwater prawn (urang, ulang, pokot)
Shrimps and prawns (pasayan)

Samar Commercially Valuable Marine Fish Species

Common whiting (asu-os)
Threadfin breams (sagisi-on)
Groupers (tingag)
Mackerels (hasa-hasa)
Aguma-a (buraw)
Round scad (galungong)
Sardines (tamban)

Harmful Micro-algae Research & Development Program

Red tide – Pyrodinium bahamense var. compresusum
Other harmful microalgae